HANNOVER MESSE 2011 - Coil technica

Transformer and Electric Motor Manufacturing Technology
Hannover (DE)
4. April - 8. April 2011

HALL 7 Stand D24
A great sucess, for the second year running, this time without the ash cloud, IWM's stand was full of potential customer, many new contacts with corss-industry relations, proving a great way for many OEM markets to see the latest in wound coil production technology.
On the stand was the dustribution transformer production machine E-1200 and hydraulic dereeler, automatic air coil machine - producing over 6000 RFID antennas during the show.
The stand also featured a six spindle automatic bobbin widner, with automated load unload system as well as our range of benchtop top solutions and produciton aids to the coil wdining shop floor.


The heavy duty model E-1200-SGB and DP4 de-spooler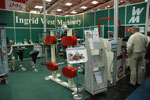 The full range of bench top solutions and production aids were also on display
as well as the six spindle auto machine with loading funciton, and finally the automatic air coil winder.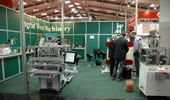 CoilTechnica is a new flagship trade show in the HANNOVER MESSE portfolio. This is where manufacturers of coils, transformers and electric motors will supplement the wealth of products and services represented at this important technology event.
Click here for more information about the show.
We would like to thank all of you who visited our stand and to remind you if you have any further queries or need any help, please contact us using any of the following methods....
On-line enquiry form - Simply fill out the boxes and add any comments you may have
Fax Back Form - Simply print out and fax to us
E-mail - Simply click here or Call us on +44 (0) 1684 273 164
We are here to help
&
Happy to help!