Coiltech ; is an International Coil Winding exhibition. It is focused on materials, machinery and equipment for the production and maintenance of electric motors, generators, alternators as well as power, distribution and industrial transformers.
Pordenone, Fiere (ITALY) - 27th/28th September 2017 - Stand G3- G5 in Hall 8
---
Customers came to talk to us about...
The IWM stand at Coiltech 2017

.


Demonstrating the latest benchtop solutions, from the tape and label dispensers range.

A wide range of ceramics & spare parts

as well as the wire tension meters Tx & Lx range
were live "in action" on the stand.on show

Demonstrating a wide range of tensioners,
including the latest electronic tension meter display, ideal for mechanical tensioners.

The automat coil taping system TP-01

The latest flat wire "edge" winding machine
was also live in action on the stand.

The latest e300W industry 4.0 coil winding machine
was live "in action" on the stand.

With just two devices TH3 and dual servo tensioner,
we can wind from 0.06 up to 5.0mm
fully integrated into the winding program.
also live "in action" on the stand.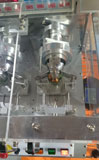 Hall Plan layout

We would like to thank all of you who visited our stand and to remind you if you have any further queries or need any help, please contact us using any of the following methods...
On-line enquiry form - Simply fill out the boxes and add any comments you may have
Fax Back Form - Simply print out and fax to us
E-mail - Simply click here or Call us on +44 (0) 1684 273 164
We are here to help
&
Happy to help!