Specification
| | |
| --- | --- |
| Program | TWC-01 digital controller holds up to 999 program steps |
| Control | DC 400 W spindle motor with stepping motor for toroid core rotation |
| Features | Choice of three gear type winding heads & three taping heads, digitally controlled core rotation. |
| Package Includes | Machine base, core rotator, winding head, your first shuttle, and comprehensive manual |
| Wire size | 0.5 – 2.6 mm (depending on machine head type and shuttle size) |
| O D Range | 40 – 250 mm |
| Min finished I D | 25 mm (depends on shuttle size & core height) |
| Min wire size | depends on shuttle size and head type |
| Max speed | 250 rpm (depending on winding head) |
| Power | AC 230 / 110 V ± 10%, 50 - 60hz |
| Dims | 690 x 630 x 780 mm |
| Net weight | 90 kg |
| CE cert. | no.AE9955093 01 |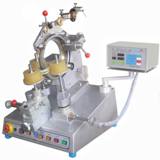 Click for larger image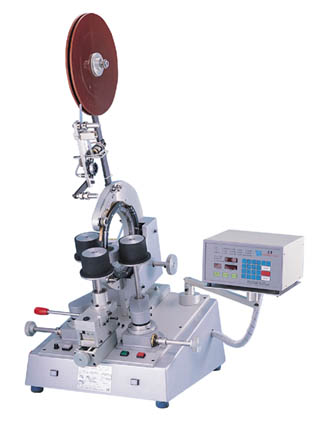 The WH-300 is a digitally controlled toroid winding machine, ideally suited to the manufacture of toroidal power transformers, isolation transformers, inductors and chokes of up to 250mm finished outside diameter.
The machine can be equipped with either 10 or 13 inch toroid winding heads, both of which are available in gear rack or taping head versions.
The machine features automatic control over wire load length, running speed, acceleration and de-acceleration, etc, and programs for complex windings are stored in memory for later use. The advanced fibre optic wire detection system includes a "teach-in" function for accurate and reliable turns count, even with coloured wires.

HEAD TYPE

G10S WINDING
G10B WINDING
G13 WINDING
T10S TAPING
T10B TAPING
T13 TAPING
Picture
Toroidal Coil O.D.
40~150mm
60~150mm
80~250mm
40~150mm
60~150mm
80~250mm
Min. Finished I.D.*
25mm
35mm
45mm
25mm
35mm
45mm
Max Height
80mm
80mm
120mm
80mm
80mm
120mm
Wire Size
0.5~1.5mm
0.5~2.2mm
0.5~2.6mm
-
-
-
Shuttle Diameter
250mm
250mm
350mm
250mm
250mm
350mm
Shuttle sizes available
8, 12,
16, 20, 25
8, 12,
16, 20, 25
11, 14, 17
20, 23, 26
TAPE WIDTH
4~8mm
TAPE WIDTH
8~15mm
TAPE WIDTH
12~25mm
*The minimum finished ID will vary according to shuttle specification and coil height