Damage, rework and scrap adds to manufacturing costs; maintain the integrity of each part by using good work handling practices.

A range of standard containers available for protection of precision components. We can also create customised containers to protect even the most complex shapes and sizes. These are precision moulded to offer smart presentation and protection, especially for transportation of coils and other delicate components. Made from high density EPS, these component trays are very lightweight (55 Grams / Litre) and are very strong so that they can be used again and again.

Features and benefits include:

EXCELLENT PROTECTION:

Prevent accidental impact damage, protection from liquid contamination, e.g. oils, etc. Thermal insulation properties assist in protection from exposure to extreme temperatures.

PRECISION MOULDED:

Smart, professional presentation of your product.

PARTS SEGREGATION:

Reduces transit damage and rework.
Up to 250 stock sizes of component tray are available. However our method of tray production results in low tooling costs, meaning we can produce new designs to exactly match your product.
Option available for foam lined base for use with PCB / Pin type bobbins.

CONDUCT-A-PAK:

Option for material to be static/electrical discharge compliant.

STACKABILITY:

Fitted lids are available to make trays stack able to minimise storage costs

PRODUCT ENHANCEMENT:

Can be made with embossed company logo for clear identification.
Available in range of colours, either to support corporate identity or for product coding.

See datasheet below to get a quotation on a complete custom design.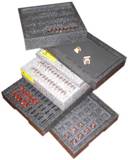 Click for larger image